Putting the model into practice
On May 7th at 11:30PM I engaged with this conceptual model by streaming an hour of Netflix from my bedroom in New York City. As I streamed, I ran the packet tracing program Wireshark to monitor the data coming onto my Macbook Pro's WiFi interface.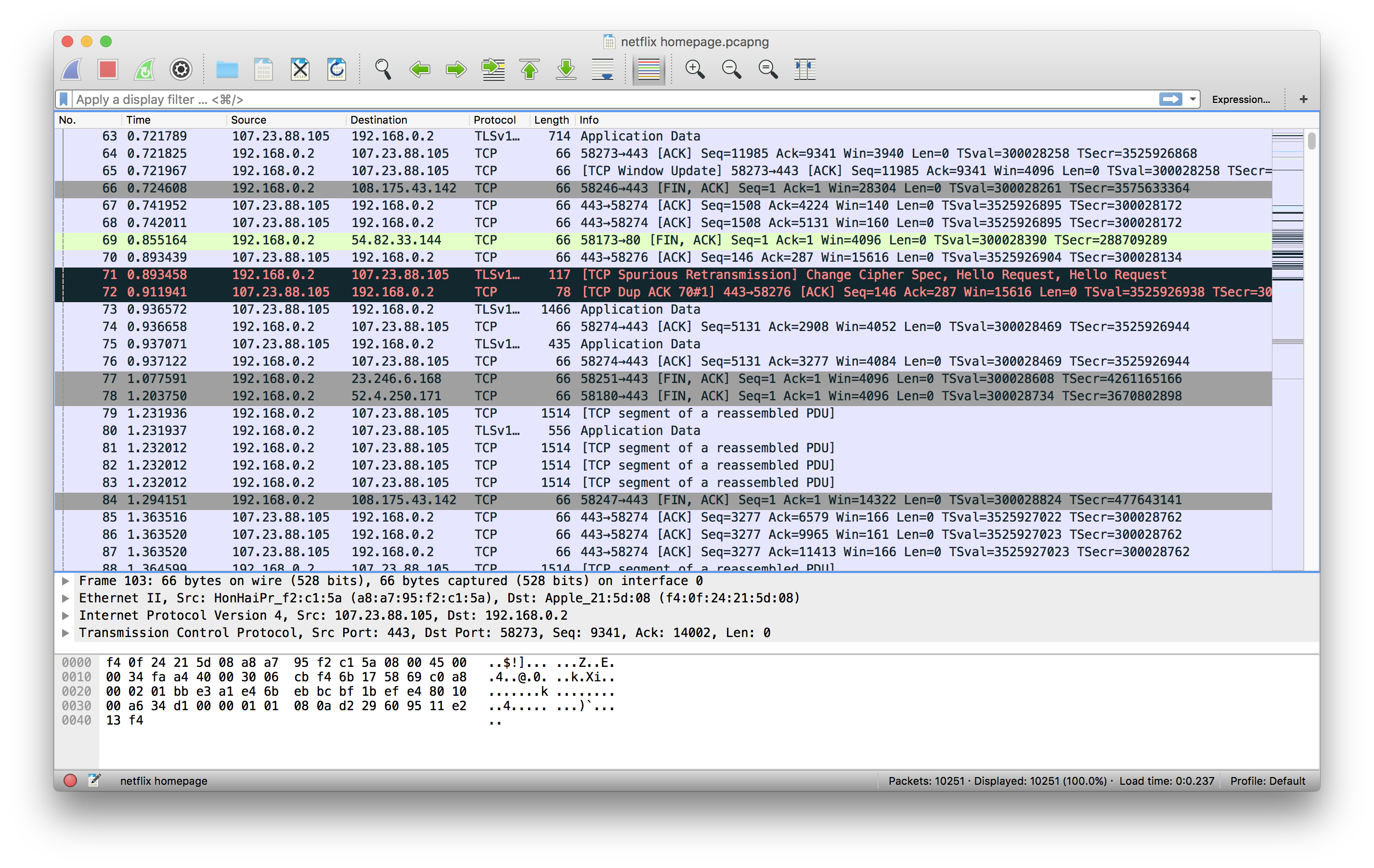 As the Netflix homepage loaded into my browser, I observed the IP addresses that were appearing on my wireless packet trace. 107.23.88.105 was the most common address I saw, so I used an IP geolocation database to get some more information on this machine.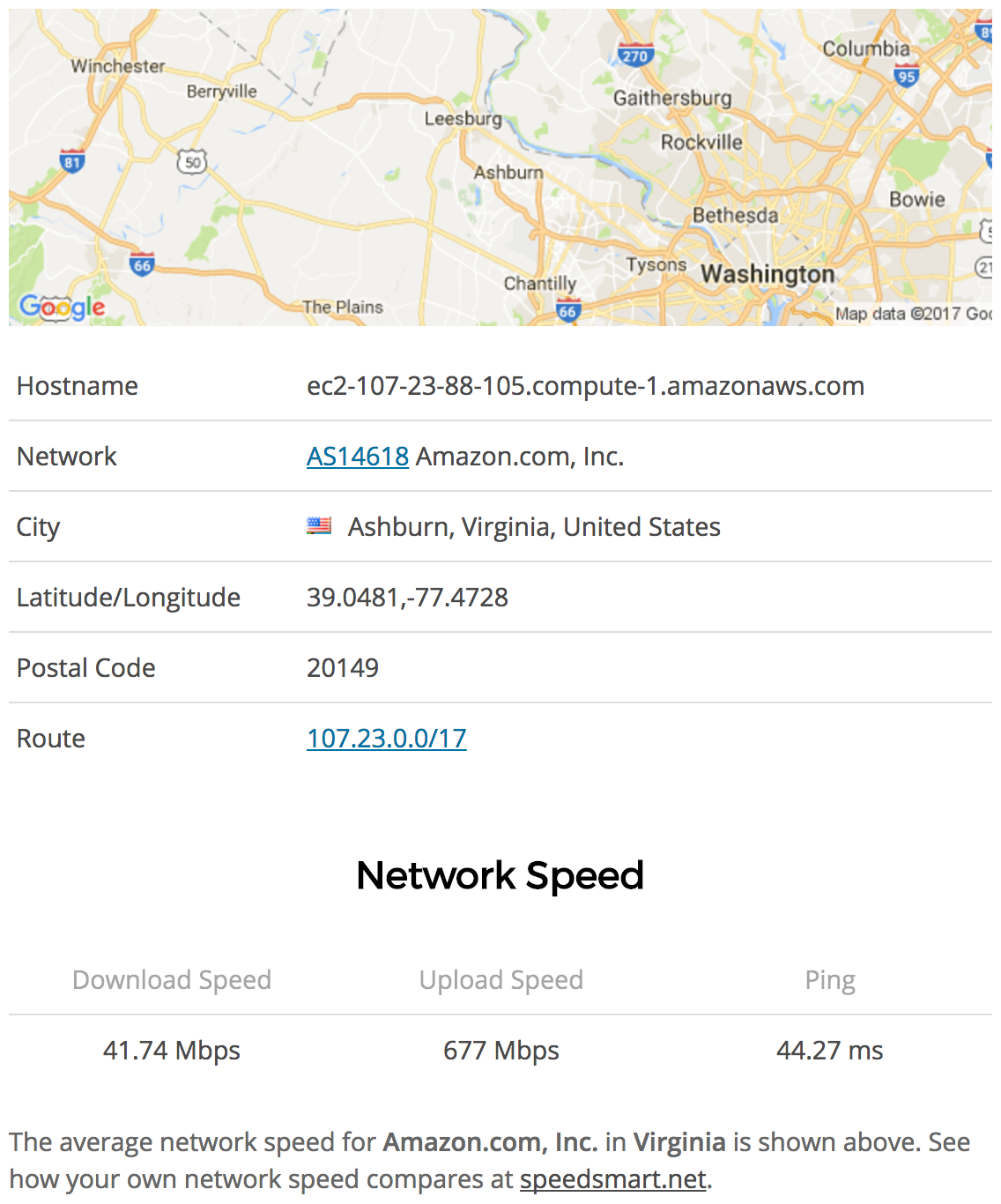 This address was in a Virginia data center, owned by Amazon. This is what I expected to find, as I learned in my research for this project that Netflix hosts all of their backend operations on Amazon's public cloud, i.e. everything that happens up until the user hits play. This is the machine where my recommendations were being calculated and served from.
I eventually settled on an episode, a relatively new Netflix original titled
Old Baby
which appeared under the homepage's "Trending" section. As the stream began, the output on my wireless trace immediately filled with packets from a new address, 23.246.7.157. I also saw packets coming from this same subnet (23.246.7.XXX) as I scrolled past video previews embedded on the homepage.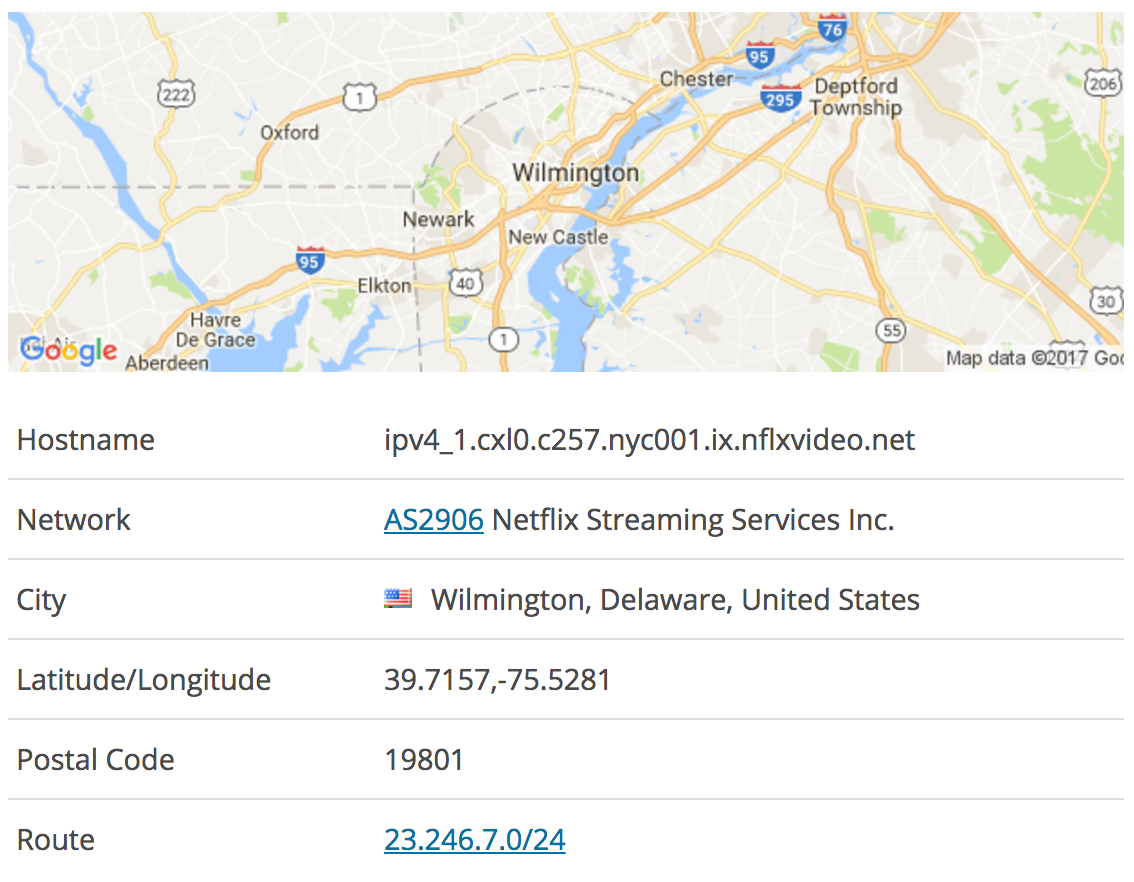 This machine is almost certainly an OCA positioned at some network exchange site in Wilmington, Delaware. This location is fairly closer to NYC than Virginia, illustrating the Open Connect network's forward positioning strategy. To put the latency benefits of this positioning into perspective, I ran an experiment with a cloud server I have access to in Amazon's Oregon location. I streamed a 720p video from this Oregon server (my experimental OCA) and found that it only took 40ms for each frame to reach my computer. I used the UNIX 'ping' command to measure the network latency between me and my OCA, 23.246.7.157. The average ping round trip time was around 50ms, indicating approximately 25ms for the one-way trip my streamed video frames were making. The Wilmington OCA's speed improvement is rather insignificant or inconsequential from my individual perspective, but the fact that it comes as a billion-dollar investment shines light on the sheer scale that Netflix engineers are considering.